Traditional Wooden Homes/Round Log
Round log house is the most convenient and most comfortable building construction for human living from ancient times till today. The world knows many great monuments of wooden architecture in Europe and Asia. These wooden homes of many varieties and shapes - palaces, churches, temples, dachas and chalets remain unchangeable throughout centuries even today. How could these buildings survive winter's biting frost and autumn showers remaining in its full beauty for more than 500 years?.
The technology of forestry and log preparation for wooden house construction is one of the key answers why do round log homes are most durable and reliable. Our computerized log processing and house set manufacturing plant is an example of combining the best of old traditions with latest technologies.
The logs we use for the house construction are debarked immediately after felling to reduce loss from insects and decaying and to decrease sapwood moisture content. Later once the house construction is finished the logs will be slowly losing moisture. The art of round log house construction is in fitting logs properly while erection of the building. We use naturally occurring shrinkage in the width and length of logs to make our wood homes airtight. We developed a unique way of placing keylocks to let the technology work with nature and tighten the log structure over time keeping it strong and robust.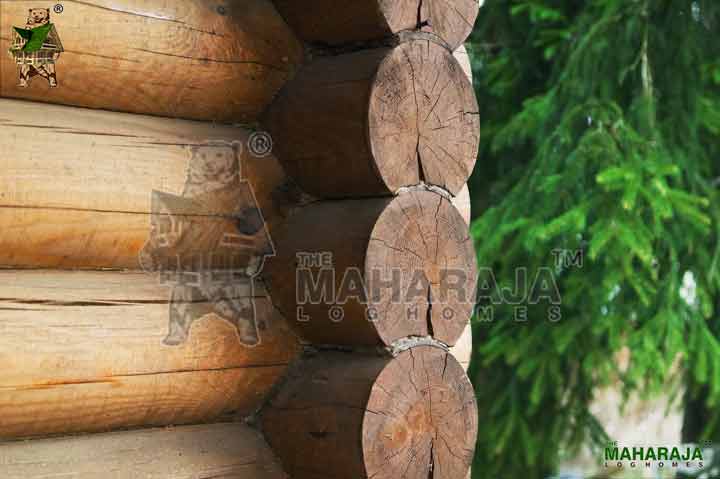 Our company manufactures round log from selected coniferous trees in diameter from 180 mm to 320 mm (7" to 12"). While processing logs we save most of the sapwood that increases log durability and makes the whole construction stronger. Moreover it improves the thermal insulation of the building. and helps enjoy the natural beauty of décor and decrease the total price of the construction.
Round log homes are very good-looking and aesthetically expressive. The unique volumetric texture of wooden logs is loved by those people tired of monotonous city life with mass scale flats and standard décor. Log house is a way to escape the routine style of living and let yourself, your family and your guests enjoy weekends and vacations in completely refreshing atmosphere of wood.
Inside a log house one can feel a rare atmosphere of peace and serenity. As the log's surface is made with minimum finishing pores pass the fresh air, what helps to maintain pleasant conditions indoors. Secondly, wood emits phytoncides in air. Breathing them in can help a person to get rid of several diseases. According to the statistics a person, who lives in a wooden house, does not get sick so often as the city dweller.
There are so many peculiarities of round log house building that it is impossible to write them all down. So you are always welcome to visit our construction sites and spend some time in round log houses we have built to become filled with its magic atmosphere and grasp the incredible difference between round log house and any other type of construction be it other wooden building or a concrete one. Offering you a log house project we advise considering not only time and cost factors but the fact that you are investing in environmentally friendly and naturally beautiful asset. Our team of professional designers will help you to choose your dream home from the catalogue of our unique projects or even to develop duly customized wooden house in full correspondence with your needs and even budget.
Give yourself and your family the chance to own the moments to spent in your round log home for many happy and healthy years!