Maharaja Log Homes are built with most advanced technology ever developed for wooden construction in India and worldwide. Having embodied the craftsmanship of the past with modern demands for comfort living we are in creation and implementation of wooden homes projects which are completely enjoyable in Indian climate conditions and have built already a trend of smart and eco-luxury living. We provide 1 to 5 years free warranty for the wooden homes we build and expected life of the log house in Indian climate both at beach side and on mountain top is not less than 80 years!.
We build wooden houses of different styles and for different purposes using only one material – wood. Having advanced technologies of fabrication and preservation we are able to replace any other material normally required for house construction assteel, cement or composite. Number of advantages is as follows. Firstly wood will not rust like steel, secondly cost of maintenance for exterior portions of wooden surfaces is always less compared to concrete, and thirdly wood is much more durable as compared to composite materials. So finally log homes are safe, cost-effective and durable.
Another very important point for the commercial and private homes is time of construction. Maharaja Log Homes are duly prefabricated what makes them 75% ready before delivery to the construction site so actual site work is running fast and easy. Our designers can manage the complex tasks of creating ground +2 luxurious wooden villas with customized layouts and interior design elements same as wooden village/restaurant/hotel for commercial project where every single part and joint should be excepted and calculated within budget. Our esteemed architects work in a team with our experienced engineers and carpenters.
Our technology is certified and we can ensure you that you will never feel suffocation or unpleasant smell in wooden houses we build.
Except perfectly insulated walls, proper roof and floor installation is very important for the quality wooden home. Floor erection starts from interlocking floor beams above plinth lines forming support for the structure. And in this stage it`s very important to put quality waterproofing material on plinth lines to maximize life of wood which is in contact with cement/steel and to protect it from water fungus and insects. Floor beams made of larch wood which is naturally insects and fungi resistant increase durability of structure without any additional treatment required to it. But we always recommend additional soil treatment to be done at your plot to avoid any unknown insect/fungi related problems so you will be 100% protected at any remote location. Further we pack space in between beams with draft floor, gaps are filled with Rockwool and floor board is laid above. So finally floor is very well insulated and ventilated at the same time (no suffocation in cottage, easy to service lines below cottage, good savings on plinth work (no need of filled plinth, pillars or piles or straight foundation is enough)!
And finally wooden house without roof is not a house and quality of roof installation is defining pleasant living in it.Main support of roof is formed with use of 50mm×150mm wooden beams,gaps between the beams are insulation with Rockwool. Above the roof beams boards will be laid for making surface for fixing waterproofing membrane and life time warrantied shingles on it. Finally roof is perfectly insulated from heat and noise, water and winds.Interior part of roof is finished with wooden ceiling for the complete beauty of your wooden home!
Wood preservative treatment and polish is very important part of wooden house finishing. To retain the beauty of wooden house, its exteriors as well as interiors, wood is polished properly after erection to make it more durable, fire safe and fungi and termite resistant.Exterior polish has pigment for protecting wooden surfaces from discoloration which comes from exposure to UV light. Modern stains and finishes can achieve more than 5 years protection, depending on the climatic conditions of the locality.We use only ecologically clean, tested and approved chemicals that are 100% safe for health, do not have any smell and don't cause allergies.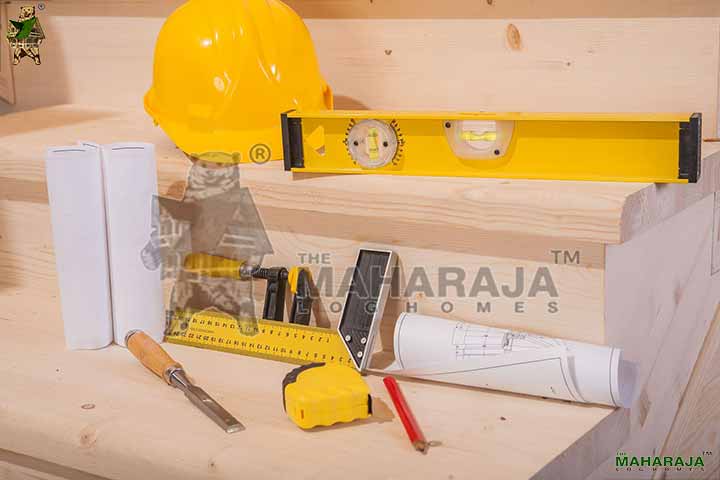 A combination of traditional carpentry techniques & precise detailing provides elegant contrast that has become a hallmark of Maharaja log homes. This mixture of raw, natural timber and precise engineering is capable of providing very light, open and efficient structures.
Our designers will help you to choose your dream project and will guide while customizing it as per your own needs and preferences. As wooded house is very flexible in term of designing, you`ll be able to place doors, windows, partitions and decorative elements as you like.
We offer a wide variety of log profiles, with different even customized sizes, corners and finishes. These makes us able to offer wide range of wooden homes including traditional round log homes, modern glued beam homes with square log and D-log profiles, low-cost wooden chalets and simple and pretty log huts, gazebos and cabanas.
We provide turn-key solutions for wooden holiday homes, garden houses, hotels and restaurants with all the required facilities and design elements. Our experienced team can provide wooden flooring, cladding, wooden false ceiling, wooden staircases and any other wooden finishing work in full correspondence with your project requirements. You are welcome with any!